Electrocorp Ceiling Suspended Free Hanging Wall Mount Air Cleaner, Purifier, Air Filtration System
Electrocorp 9000 Series Air Filtration System - Ceiling Suspended, Free Hanging, Wall Mounted
Air Purifier - Cleaner - Scrubber
Chemical Fumes Gases Smoke Cigarette Odor Removal Extraction
About Our Activated Carbon + HEPA Filtration System

Activated carbon is widely recognized as the safest, most effective way to treat odors and chemicals, while HEPA (High Efficiency Particle Air) filters are the gold standard for removing particles. Together they provide the most complete and versatile air cleaning system available.

About "Activated" Carbon

Carbon that is 'activated' undergoes a process that opens up millions of tiny pores and fissures to enhance the material's adsorbent properties. The process creates a very large internal surface area, which is key to the power of activated carbon - the more surface area - the more the carbon can adsorb. Only one pound of activated carbon typically has a surface area of 125 acres. Activated carbon is so effective that it's used in military gas masks.

About HEPA Filters

HEPA stands for high efficiency particulate air filter and describes a filter that can remove at least 99.97% of airborne particles 0.3 microns in diameter. Particles of this size are used to evaluate the performance of a filter because they are among the most difficult to remove. However, particles that are larger or smaller than 0.3 microns can be filtered with even greater efficiency due to the nature of the filterís design. True HEPA filters are composed of a dense web of fibers designed to trap particles. This type of filter was first used in the 1940ís to trap radioactive contaminants in the air and protect scientists who were developing the first nuclear weapons. Today, HEPA is considered the safest and most efficient method to treat airborne particles.


with optional 12" diameter flex hose flange adapter


wall mounted installation- optional wall mount bracket available
Ceiling Mount or Wall Mount - 9450 CM - 560 CFM
$1299.98 USD
Order / More Info: Call 1-800-626-0664
| replacement filters |

Technical Characteristics
Filtration system:
15 lb. carbon filter, tar-trapping smoke filter, medical-grade HEPA, pleated post filter
Dimensions:
16" (h) x 19.75"(w) x 16.5" (D)
Operating weight:
80 lbs.
CFM:
280 Delivered
Decibels:
55-75 dB
Carbon:
15 lbs.
Maneuverability:
Stationary unit
Option:
Custom carbon blend, 30 lb. carbon filter, (2 filters of 15 lbs. each)
Ceiling Mount or Wall Mount - 9475 CM - 735 CFM
$1399.98 USD
Order / More Info: Call 1-800-626-0664
| replacement filters |

Technical Characteristics
Filtration system:
15 lb. carbon filter, tar-trapping smoke filter, medical-grade HEPA, pleated post filter
Dimensions:
16" (h) x 19.75"(w) x 16.5" (D)
Operating weight:
80 lbs.
CFM:
400 Delivered
Decibels:
55-75 dB
Carbon:
15 lbs.
Maneuverability:
Stationary unit
Option:
Custom carbon blend, 30 lb. carbon filter, (2 filters of 15 lbs. each)

[ BreathEasy Ceiling Suspended, Free Hanging, Wall Mount, Horizontal Orientation Air Filtration System ]
BreathEasy Home and Office Series - Ceiling Suspended - Free Hanging - Wall Mount - Horizontal Floor Model Configuration
Home and Office Series Air Filtration System Hepa and Activated Carbon Chemical Filter - available in ceiling suspended - free hanging - wall mount configuration (horizontal, "landscape" orientation).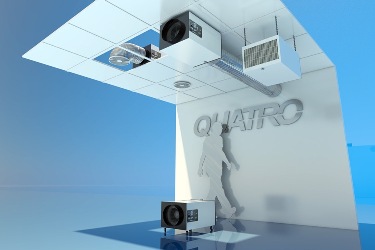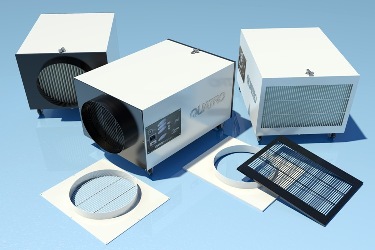 Free up valuable, premium floor space without paying a premium price - add only $100 to the price of the vertical, upright, floor unit
Filter configurations : | Fine Particulate Control | Odor Control Capablities |
Compact free hanging - suspended - wall mounted - available floor standing model with wheels in horizintal orientation - air purifying system for people who suffer with Allergen super sensitivity
SL Fan Air Filtration Unit | Ceiling Mount | Ceiling Suspended | ISO 5 (Class 100) |
Provides ISO 5 (Class 100) Conditions
Standard Features:
HEPA filter rated 99.99% efficient at 0.3 microns

Provides ISO 5 (Class 100) conditions

Durable aluminum housing

Variable speed control

Duplex outlet in housing allows up to 5 units to be joined together

15 foot 3 prong electrical cord

Disposable quick change MERV 7 pre-filters

Uniform airflow across filter face
Note: All parts are accessible from room side except for the pleated pre-filter
Extruded anodized aluminum filter extrusion, comes with room side replaceable 2.5" High HEPA Mini-pleat pack, rated 99.99% efficient at 0.3 microns with gel sealant to ensure a leak free, uniform seal.

Motorized impeller housing, 18 gauge aluminum (painted aluminum or stainless steel optional)

Motorized impeller - 200 - 400 cfm, 400 - 800 cfm

Filter housing clamp

Product label

DOP Test port nipple, 1/8" NPT. (optional)

Duplex electrical outlet

Expanded aluminum finger-gaurd mesh, comes with pleated pre-filter at 30% ASHRAE, (nominal size: 20" x 16" x 1")

Variable speed control

Electrical compartment, comes with Z-cover

Neoprene gasket

Power cord

Aluminum protective mesh, painted white, on the underside of the fan/filter module.
| Main page | Air purifier models | Replacement filters | FAQs | Features | Compare | Colors | About HEPA | Contact | Order | Letters ||
Portable, Desktop, MCS- multiple chemical sensitivities, Smoking area, cigar, cigarette smoke odor, Nail Salons, Mold Remediation,
Fire, Water, Wind, Disaster restoration, Whole house, Stainless steel, Biological / Chemical Terror, Positive, Negative pressure,
UV Light, 1000 CFM, Dual Speed 700 CFM / 1300 CFM, 2000 CFM True HEPA air purifier, Industrial, Commercial 1000 CFM, 750 CFM, 500 CFM,
True HEPA filtration, Activated Carbon Filter, Replacement Filters, Formaldehyde, Ozone, Molds, Mold Spores
Second Hand Smoke Disclaimer: Espitech Air Products disclaims all warranties, implied or otherwise,
that anyone (non-smoker or smoker) who installs our air purifiers, air cleaners, or air scrubbers as an alternative to seeking a smoke free environment
will be protected from the health risks caused by exposure to second hand smoke. | Second Hand Smoke |
© 1996-2015 Produits D'Air Espitech, SENC ( Espitech Air Products) All Rights Reserved. Use of this online service is subject to the disclaimer and the terms and conditions.
Last Updated: November 11, 2015
Call 1-888-395-0330 / 1-800-626-0664 for help in choosing the right air filtration system, air purifier, air cleaner, air scrubber for your needs
we're your source for genuine replacement filters and parts
Electrocorp Ceiling Suspended Free Hanging Wall Mount Air Cleaner, Purifier, Air Filtration System